November 15, 2016
LIFESTYLE HOW TO PARTY LIKE A VIP IN LAS VEGAS… ACCORDING TO A REAL VIP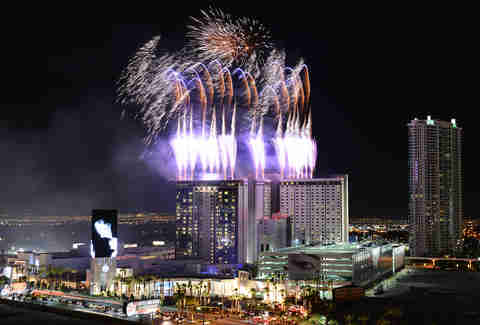 "We've had parties that started on a Friday and ended on a Sunday."
Manny Kess knows how to have fun in Las Vegas — without limits. The VIP host is the founder of The Kess Group, and counts world-famous DJs, athletes, pop singers, movie stars, and even royal families among his clients.
"For one baseball player's bachelor party, we had stripper poles brought to the suite," he recalls. "Instead of having to leave and go to the strip club, we brought the strip club to them."
Kess estimates his company hosted two-thirds of the Super Bowl Champion Denver Broncos over the summer at some point.
"When Von Miller came in with his friends and family, he just wanted to go to pool parties. Marquee had Wiz Khalifa hosting, and he wanted to hang out with him, so we made sure we got him the cabana next to Wiz. They got to interact, hang out, and have a good time."
But not every customer is a celebrity. People who reach out to Kess are often part of birthday parties, conventions, or corporate groups in town for business.
"We have a laundry list of clients, and we treat the smallest one to the biggest one equally."
The one thing that everyone on Kess' list has in common: they all want to feel like a true Vegas VIP. Below, Kess shares his tips on how to live like a VIP… whether you have lots of money to spend or not.
Nightclubs
The Kess Group stays busy hooking people up at the most in-demand nightclubs on the Strip. "In Vegas, these are mega-clubs. There are thousands of people trying to get inside these venues."
If you want to feel like a VIP, you don't want to get stuck waiting in the crowd outside the entrance. One of the best things you can do is make a reservation in advance. "That's going to significantly increase not only the speed of getting in, but also your experience," says Kess.
The most straightforward way to reach VIP status at a club is to have a table. Fortunately, some are less expensive than others. Book early, and you have a better chance to score an entry-level table — the cheapest ones farthest away from the DJ booth. They sell out first, and that's because they're worth it.
"It's really difficult when you're competing with thousands of other people to just be standing around at a nightclub, hoping to attract a group of girls. The person with a table that's inviting people to join them has a much better chance — as opposed to a group of guys just standing around at the bar or in a walkway."
No matter which table you book, don't be late, or you might lose your spot altogether.
"Even if you have reservations to these parties, most of them sell out. So if a nightclub opens at 10 o'clock at night, don't assume you can show up at one o'clock in the morning and still have your table. Follow the proper guidelines to make sure your night goes as planned."
So what if you don't have a reservation? Girls can get in without much trouble, but one of the worst things you can do is approach a doorman with a large group of guys. Kess suggests leaving the group off to the side while one person approaches the doorman solo and explains the situation. A nice tip doesn't hurt either — $100-200 dollars is not uncommon.
Kess says to choose your club wisely. Get familiar with the acts and music at each one. Otherwise, you won't have any fun, whether you're a VIP or not.
"A lot of my athletes who come in are fans of hip-hop, so I'd recommend Drai's, which has live performances and artists like The Weeknd, Chris Brown, and Big Sean, over an XS or Hakkasan, that are DJ- and EDM-driven clubs. On the flip side, if I have a group of executives that are coming in from London who are big EDM fans, they'll love Calvin Harris at Omnia or David Guetta at XS."
Kess says he's a huge fan of Hyde Bellagio, which is perfect for people who aren't worried about big-name headliners and want a more intimate venue. "It's a smaller club," he points out. "So not only do you get a really fun and cool environment, but you have arguably the best view on the Strip, which is of the Bellagio fountains." It also offers UnWined Wednesdays, where top-rated bottles and glasses of wine are half-off from 5-10pm, while the club is in lounge mode. It's a great opportunity to look cool in front of a date… while saving a few bucks.
Dayclubs
Most tourist destinations specialize in beaches and lazy days by the pool. Not Vegas. If you want to be a player while the sun is shining, pick a good dayclub. It's like a nightclub… but with a lot less clothing. What most people don't realize is that they'll end up spending a lot more time at a dayclub than a nightclub, which means they sometimes forget to balance all that alcohol with food and water.
"People think if they're just drinking vodka sodas or tequila with Diet Coke, they're getting enough liquid, but that's not the case," says Kess. "You need to hydrate yourself, because the quickest way to get smashed or pass out is by not drinking water."
And if that's the case, you can count on getting kicked out of the pool area by security. It's the quickest way to go from VIP to loser.
Drinking
Face it. Bottle service is a reality, whether you're at a nightclub, dayclub, lounge, or strip club. Ordering it at your table is a quick way to look like a big shot, but it's not cheap. However, you can save a few bucks if you pay attention and look closely at the menu..
"Don't just blindly order something without knowing what it costs," Kess says. If there are a lot of people at your table and you're planning to stay a while, sometimes it pays to order big. "If a regular bottle of Grey Goose is $650 and the magnum bottle is $1,100, you should get the magnum, because it's cheaper, and vice versa. There are certain times where if you get two smaller ones, it costs a lot less than getting one larger bottle," Kess says.
Style
A key to being a VIP is looking sharp, especially at a good restaurant or nightclub. They have dress codes, so follow them.
"Very often, I see guys trying to go to clubs in shorts. That's definitely frowned upon, and there isn't any club in Las Vegas that will allow you to come in in shorts. You have to wear jeans or slacks."
What about women?
"They obviously have a lot more freedom, but I've seen some really crazy outfits. Bachelorette parties can get pretty wild. I've seen groups of girls try to walk up to a club in tutus, but unless it's a themed party or Halloween, leave the tutu at home. Wear a dress. Wear some heels. Look presentable."
But it's the guys who screw up in the fashion department most often, even at a place where it should be easy, like at a dayclub.
"I can't tell you how many times we'll see a group of bachelors try to go to a pool party and wear the Borat-style G-string or a Speedo. Don't do that! It might be funny in your backyard, it might be great for a selfie, but don't come to Las Vegas in a G-string."